Transportation has improved over time, and it's a big help in improving and accelerating the work that people have to accomplish on a regular basis. It speeds up the process, saves more time, and it aids people in fulfilling other things beyond the time frame set. We don't need to walk by foot in order to reach the place that we want to go. We don't need to wait for days in order to reach short-distance travel which were typically reached in days and even weeks anciently. Life becomes easier these days especially that there were people who contributed a lot to the kind of progress and development that the world undergoes each day. There are geniuses who are willing to contribute, and with the evolution of the latest gizmos in our day, we could be assured that it will help further the work, the industry, the market place, and all other facets that the world sees. From animals which were utilized to travel from place to place early in the history, the discovery of wheels, vessels that carried people through water, and aviation that makes travel more faster from one country to another country, and even to the end tail of the world. It's also a simple experiment made by the Wright brothers when they invented the very first airplane in the world on December 17, 1903, and by1925 the very first airfield was made which an old racetrack that was was developed in order to have a place where airplanes can land, and take off. We are now living in the 20th century which is really way better than the time that the first airplane was made, and first airfield was created. We could see how technology and mankind ingenuity played their roles in developing more advanced, unique, and avant-garde aviations that could fly and see the world. Moreover, along with it, there here are also top 10 biggest airports in the world that contained not just basic designs, but other facilities for convenience of their passengers.
10. Hong Kong International Airport
It is also known as Chek Lap Kok Airport which is also the main airport found in Hongkong, and it's situated at Chek Lap Kok Island, where its name was derived. Its operation began in 1998 that caters more than 40 destinations in Mainland China. It implements a 24-hour operation, and it's designed by Lord Norman Foster who is a renowned architect from Great Britain. Its total area is 1,255 hectares, workforce is around 65,000, it operates 62 flights per hour which is the flight handling capacity of Hong Kong International Airport, cargo throughput is about 4.1 million tonnes, and 50.9 million as its passenger throughput. This airline is connected to bridges, railways, and striking highways. It could be reached in just 30 minutes if you would ride the MTR Airport Express train. You could find impressive terminals that have splendid and luxurious facilities for entertainment, leisure, and dining. Moreover, it is the world's recognized outstanding airport in the world.
9. Frankfurt Airport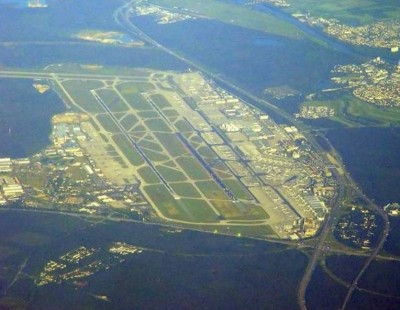 This is one of the busiest airports in Germany, and its named was based from its location which is built in Frankfurt, Germany. This is the best hub for Aerologic, Air Cargo Germany, Condor Flugdienst, Jet Executive, Lufthansa, and XL Airways Germany. This is being managed and operated by Fraport for public transport and its elevation is 364 feet/111m. There were series of expansion done in this airport, wherein additional transports, terminal sections, and other facilities in order to best serve the passengers of the airport. In fact, they have actually predicted that there would be a growing number of travelers in 2020 that might rise up to 20 million, and this is the reason why another terminal was opened this week, October 10 2012 to cater additional 6 million patrons. There would be another terminal that would be opened by 2013.
8. Dallas Fort Worth International Airport
Stay connected to this public airport which is under the operation of DFW Airport Board, which is located in cities of Forth Worth and Dallas. Its land area is 18,076 or equivalent to 7,315 ha. This is also the largest airport found in Texas, and one of the busiest gateways in America. This is the best hub of UPS Airlines and American Airlines. Its elevation is about 607 ft/185 m. Some of the perks of the airport are the USO, sky train, and have nearby facilities for convenience of the passengers, but make sure that you ask questions if you arrive here since it's literally big. It has Terminal A, B, C, International Terminal D, and Terminal E.
7. Paris Charles de Gaulle Airport
Aeroport de Paris owns this airline and it's primarily serves passengers of Paris. It's one of the busiest airlines in Europe which can be reached within 23 kilometers travel to the northeast part of the country. It could also be reached through limousines, RATP buses, and taxis since it provides easy routes for their passengers in order to arrive in the area quickly. You could find 3 terminals of the airport where you could enjoy free shuttle buses. There are also widest selections of facilities intended for both domestic and international flights like restaurants, services, and even bars. This is also the largest airport in France, and its name was derived from the leader and founder of the French Republic named Charles de Gaulle. Its land area is about 12.50 sq mi or 32.38 km. It has terminals 1, 2, collapse of terminal 2e, east terminal 2e, and 2f and 3.
6. Los Angeles International Airport
It serves millions of passengers who go and pass this airport, and it's the largest airline situated in California. Its own by the city of Los Angeles and its operation is being handled by the Los Angeles World Airports which actually serves the Greater Los Angeles, and Metropolitan area. Of course, this is located in Los Angeles, California while it's focus on cities like Allegiant Air, Air New Zealand, Qantas, Virgin America, Southwest America, and Volaris. This is the best hub for American Airlines, Alaska Airlines, Horizon Air, Great Lakes Airlines, and United Airlines. Its land area is 640 acres or equivalent to 1.00 sq mi, 260 ha. Some of the facilities that you can find in this airport are aircraft spotting, space shuttle endeavor, the theme building, and its terminals 1 to 8 and the Tom Bradley International Terminal.
5. Tokyo International Airport
It is an airport is located in Ota, Tokyo that has two primary airports and it's also called as Haneda Airport. Its operation is under the Tokyo Aviation Bureau, Japan Airport Terminal Co., Ltd., Infrastructure and Transport and Ministry of Land. This is the perfect hub for Air Do, All Nippon Airways, Japan Airlines, Skymark Airlines, and Skynet Asia Airways. It began operating in 1931, but domestic operations started in 1951, and there were series of terminals added in order to cater to the growing passengers and needs of their patrons. An expansion is being undertaken since the 2011 announcement wherein an inclusion of a new 8-gate, parking spots, and other new facilities that expected to be seen after its completion in 2014. It has terminals 1 and 2 and International Terminal and it could carry 62.3 passengers.
4. O'Hare International Airport
It became the busiest airport in the world in late 1990s because of the number of passengers that they had that time. In fact, it was voted as the Best Airport in North America and it's under the operation of the Chicago Airport System. It serves the United States, Chicago, and Illinois. This is the best hub for American Airlines, Air Choice One, and United Airlines. The name of this airport was derived from the World War II flying ace, Edward O'Hare. It carries 66.6 million of passengers, and commercial flights began in 1955 and it has 5 terminals, terminal 1 to 4, and International Terminal.
3. London Heathrow Airport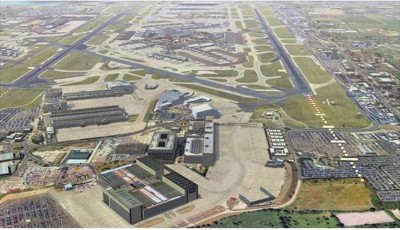 BAA Limited owns the London Heathrow Airport which is under the operation of the Hearthrow Airport Limited and it's the perfect hub for British Airways. It's located at Hillingdon, London in the United Kingdom. It has carried 69,433, 230 passengers, and it's indeed the busiest airport you can find in the United Kingdom. Its site is 12.14 square kilometers, while its land is 12 nmi which is equivalent to 22 km, 14mi. It was just a small airfield when it began in 1929, and its name was derived from Heart Row or Heartrow which was a local hamlet during that time that had orchards, and market gardens. Today, this small airline serves about 90 airlines and could fly up to 170 destinations in the world. It has 6 terminals including cargo terminal.
2. Beijing Capital International Airport
By 2017, Beijing Capital International Airport will be known as Beijing Daxing International Airport after its announcement that it will be transformed into a new Mega Airport which is expected to be opened by 2017 wherein it would have a new hub of about 21 square miles, eight runways, ground transportation hub, and expected to service around 130 million passengers which would surpass its current capacity of 75 million passenger per year. Its operator is the Civil Aviation Administration of China that serves Beijing. Hence, it's specifically located in Chaoyang District which is the hub for Air China, Hainan Airlines, and China Southern Airlines. It has been operating since March 02, 1958 wherein it started as a small terminal building, and not it has 3 big terminals, system, security, and luggage, airbus A380, Inter-terminal transportation, and ground transportation like car, bus, rail, and taxi.
1. Hartsfield–Jackson Atlanta International
This is not just the largest or the biggest airport in the world, but it offers competitive gateway, most advanced facilities, and maintains higher level of customer service. Its operation is under the Department of Aviation and it's located at Hapeville Fulton & Clayton counties, and in Atlanta and College Park. Since, it's the biggest, it's expected that it's also the busiest airlines in the world, and it holds that title since 1998 by accommodating a yearly 92.4 million of passengers with 923,991 flights and 252,000 daily passengers. It serves Asia, Africa, Central America, Europe, North, and South America. It started on abandoned auto racetrack that has 287 acres or 116 ha. Series of development and expansions were made since 1967 carrying different themes and until it has achieved the modernization plan where you could find the plane train, MARTA Station, seven concourses of terminals, domestic terminal, and International Terminal.