The trends and styles for women's fashion and passion are changing, reviving, and doodling. The way women dressed themselves anciently is way different these days because of the evolution, and influence of technology. Moreover, it also varies according to traditions, cultures, customs, and beliefs that individuals have that could have been cultivated according to their region, race, and family background. Hence, whether women is at work, going somewhere to stroll around, and doing nothing at all, here are some of the things that men have observed in women that they want to correct. Women is really into fashion details, and they are much conscious than men. However, the notion that you to dress to impress people would really depend on individual tastes, but men's opinion would really matter because they have much more to say than women since they know exactly if what women wear is really appropriate, over-the-top, or over-killed, and annoying. Let's all face the fact that most of the women today would really go after what's really hot, and cool these days. However, these are honest feedback, observation, and suggestions that they want women to know so they could improve, and could get away from the fashion-disaster branding. These top 10 fashion mistakes of women are not just factual, fruitful, but full of honesty because they want women not just to be conscious, but to be informed if they are really flagging wisdom in fashion and tastes, or the other way around. Learn from them, and not from what society sets as trends.
10. Over Labeling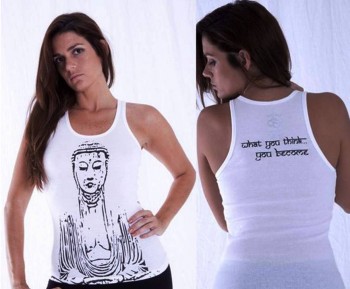 It's really irritating to see handful of printed messages on shirts, and even on pants. What is the real purpose why you wear them? Are you going to send a message to certain people? Are you making a stand on specific argument or current issues? This is not just about the mass of printed shirts in the market, but even too much display of labeled or designer clothes. People are not interested if you are wearing the top-brand jeans or tops. You might only send a message that you can afford to buy these stuff, but who cares anyway? Wearing them do not make you more valuable than other women, but it just send signals that you really don't know what fashion statement is from being brand conscious. Nothing beats this classic adage that simplicity is beauty.
9. Bulky Shoes against Feminine Dress
You cannot combine bulky shoes on your favorite feminine dress. It is true that you have to wear something comfortable when pairing it in a dress, but it does not mean that you make it too much of a casual that it went overboard, and it becomes a fashion-disaster-mix-n-match. Men in general find it dainty to see women wearing appropriate sandals or any stiletto shoes and simple accessories to achieve better look. Being unique does not mean that you have to look terrible or unusual among all other fashion conscious like you. Another wrong fashion mix-n-match under this category is the pairing of dress to sneakers and rubber shoes. Just be reminded what's the purpose why specific shoes are made, and why they are called rubber shoes, sneakers, and bulky shoes. They need to be matched-up according to occasions, and kind of clothes that you would wear.
8. Revealing Undergarments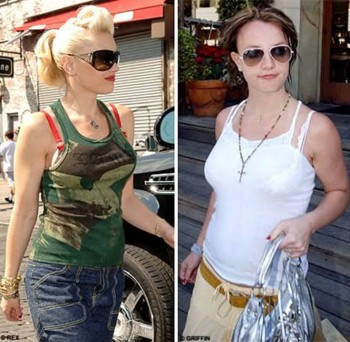 Undergarments are worn for them to cover sensitive parts of the body. However, another weirdest and terrible fashion craze has been set these days where you could see women showing-off their undergarments noticing the visible color of their bras, and even panties. In fact, you could see major stores that even sell various transparent, yet doodled designs straps of brassiere where they can reveal and display before the public. If you want to blaze-up your underclothing, you do it at home, and not for public exhibition. It pitches a different message, and it would never be a fashion statement to show-off the color of your undergarments.
7. Tight Clothing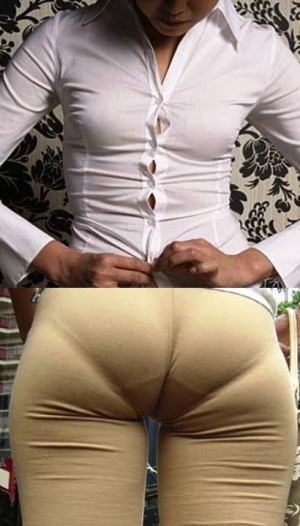 It does not matter if you have a curvaceous boy, but according to men it does not draw attention to them to see women wearing too tight clothing, but it is one of the biggest turn-offs because they find it very revealing. Some of the classified tight clothing these days are too skimpy tops or body hugging clothes, too-low cut that show-off precious assets. Some women believe, if you have something to display, it's not too much skin, but it's how you keep a well-respected and well-groomed look which is not too odd and not even too-old fashioned. It is also included on this category, the craze of keeping various colors of super short cut-off jeans and other too-short shorts. It does not matter if you have flawless skin tone, but the proper place and time that you can wear them if you are at home, and during summer time. It does not mean that if everyone wears it that it's already a fashion craze. Don't let fashion trends dictate your style preferences. It's even inappropriate to wear skimpy clothes if you are fat, wear something that you can breathe and you are most comfortable with.
6. See-Through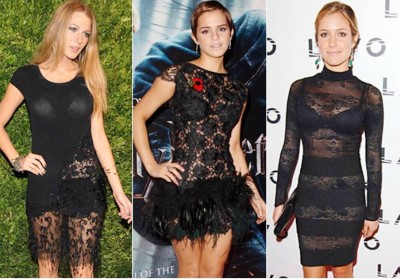 It's same with undergarment display, but for most men who have been interviewed, they don't want to see other men looking at their girl's assets than to how they carry themselves. They find it disrespectful when one could only see the color of your brassiere and panties. In fact, to those who are already married, they only want their spouses wearing these kinds of clothes at home especially when spending intimate moments, and not flaunting it before the public. In fact, majority of the impressions that men get when they see women wearing see through is to get attention of everyone. In fact, they even states that it's a very poor taste. Majority of women find it sexy, but it does not promote or exhibit respect.
5. Unflattering Top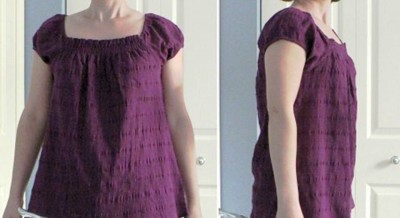 It does not mean that if you wear a celebrity or a model wear specific top that it would also look good to you. What usually look good to others do not guarantee that it will also be a perfect match for you. It's a big NO to wear an over-sized top if it does not show a hint of a figure of your body. In fact, one of the women's fashion disaster crazes today is wearing a flowy top that disfigured their body that gives an illusion that they are pregnant. It's okay if they are indeed pregnant, but it does not mean that if you are pregnant that you have to really look that you have a growing stomach.
4. Too Much Accessories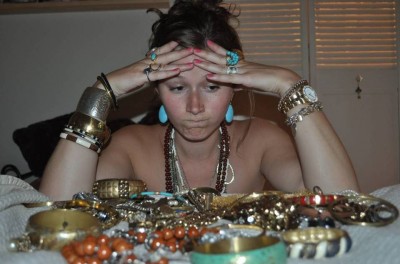 It's cool that you accessorize yourself especially if you are wearing plain clothes, it will enhance your overall look. However, there is a thin line of too much jewelries and wearing nothing. Accessory shun away a boring outfit, however, if you over outdone it, wear less of them, because that's the real meaning of fashion, keeping less of it, showcases more of you. It might become fashion disasters as if you are a walking Christmas tree on a runway that have complete pair of earrings, necklace, hoops, choker, thick ricks, and others. Remember you are not a walking shop, so you don't need to flaunt everything that you have in your jewelry or accessory box.
3. One Color Matching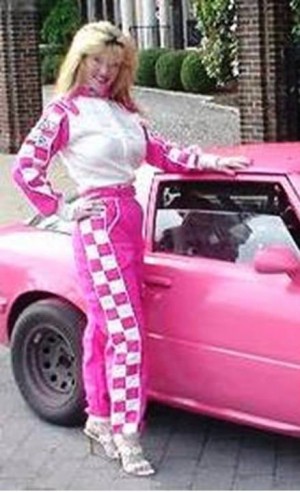 There are some models who have worn dresses down to their shoes with just one-color matching. It works sometimes especially if one knows how to carry it with class. Nonetheless, it does not work all the way that you over-kill this pattern of wearing one color from head to toe. You don't need to dye your hair just to match it with your color for the day. In fact, it is really irritating to see one-color matching. At least, you could play in two or three kinds of colors, but don't wear different colors that will look you a walking rainbow on the street. You could check some sites that have samples of how to make good matches of colors, and know as well the right color that will suit your skin tone.
2. Wearing Stylish Uncomfortable Shoes
More women these days are wearing high-heel shoes since it looks good and great on them. However, this is not an everyday shoe that you can use aside from the health-related problems that it gives. One of the most coveted shoes that women include in their collections various colors of stilettos, and other 6-inch pair of shoes like boots, and other mid-heel shoes. It really looks good in most of the women seeing those pairing heeled-shoes with dresses because it enhances their feminine and emphasizes dainty figures. However, there are some who can't really carry them especially if they are not used to it. You could wear a pair of heeled-shoes, but as often, wear something stylish, but comfortable shoes where you can mix-n-match with your pants, dresses, and other occasions. If you are comfortable on what you put on your shoes, you can carry it with confidence and classiness.
1. One-Pattern Styles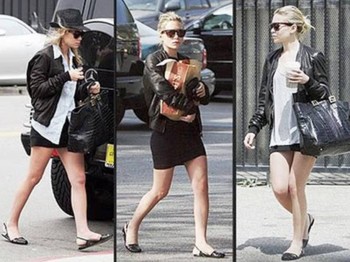 Don't settle in one-pattern styles that even others could recognize that's the kind of preferences that you have. Don't be afraid to try other appearances, varieties, and cuts. You don't need to buy what's being seen or displayed in most of the stores. In fact, you could reinvent yourself, and not being classified in specific branding that it becomes a personality or character that one sees in you. In fact, you could check on your previous collections of clothes, and try to mix-n-match with it. Play with the colors, shoes, and not going on the flow of fashion craze these days that do not establish unique identity. However, not old stuff that you have in your old box could go well with other contemporary collections that you have, so ask a fashion critic, so you'll know that you are wearing a good pair.